2 min ago
Uruguay and South Korea kick off
South Korean star Son Heung-min is wearing a mask for Wednesday's match against Uruguay. (Matthew Childs/Reuters)
We are underway at the Education City Stadium!
Uruguay and South Korea have kicked off in this Group H match with Son Heung-Min, South Korea's talisman, wearing a protective eye mask after he suffered a fractured eye socket earlier this month.
Already, live pictures have picked out fans in the crowd wearing similar masks.
24 min ago
What can we expect from Uruguay vs South Korea?
Uruguay is the favorite and will benefit from the experience of Edinson Cavani and Luis Suárez. Liverpool forward Darwin Núñez will also feature in the attack, while midfielders Rodrigo Bentancur and Federico Valverde have been in excellent form of late.
The positive news for South Korea is that star player Son Heung-Min has recovered from a damaged eye socket and has been training in a protective face mask this week.
"Son can play," coach Paulo Bento said in a press conference. "Yes, he will be able to play. I think the fact that he will be wearing a mask is not an inconvenience for him. It is rather natural for him."
Son suffered a fractured eye socket earlier this month playing for Tottenham during Spurs' Champions League match against Marseille.
"Our hope is he will feel comfortable to the greatest extent possible and we'll use the best strategy so he will feel at ease during the game," Bento said.
"But he knows and we know that we cannot rule out any risks."
Uruguay and South Korea have met each other twice during World Cups: at the group stage in Italy in 1990, and the last 16 in South Africa in 2010 – with Uruguay emerging victorious both times.
In three other friendlies – in 2002, 2003 and 2007 – the Uruguayans emerged victorious, but the teams' first ever meeting in 1982 at the Nehru Cup ended in a 2-2 draw.
32 min ago
Cristiano Ronaldo makes his tournament debut later today
From CNN's George Ramsay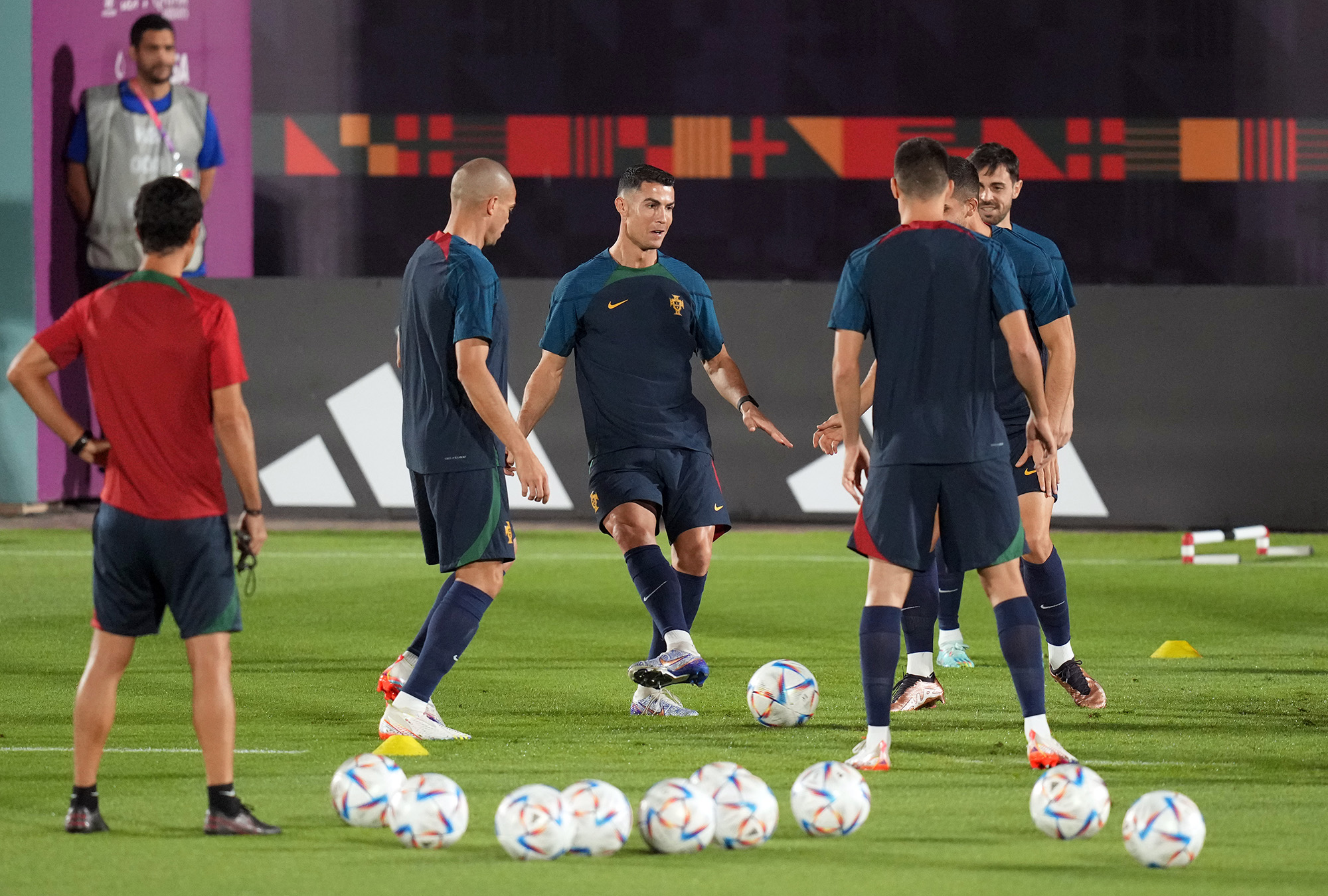 Portugal's Cristiano Ronaldo looks relaxed during a training session at the Al Shahaniya Sports Club, Al Shahaniya, on November 23. (Peter Byrne/PA Images/Getty Images)
Two days after his turbulent departure from Manchester United, Cristiano Ronaldo will begin his World Cup campaign with Portugal later today and look to put events from the last week-and-a-half behind him.
Portugal faces Ghana at 11 a.m. ET today, kicking off what will likely be the 37-year-old Ronaldo's final World Cup – a trophy that has so far eluded him over the course of his decorated career.
A successful tournament in Qatar would also allow Ronaldo to move on from his messy divorce with United having ended his second spell at the club on Tuesday.
It came after the forward gave an explosive interview to Talk TV in which he said he felt betrayed by United and launched a scathing attack on manager Erik ten Hag.
And as the World Cup gets underway, Ronaldo has offered assurances that the focus of his Portuguese teammates won't be shaken by the timing of his bombshell interview.
"In my life, the best timing is always my timing," he told reporters on Monday. "I don't have to think about what other people think. I speak when I want. The players know me really well for many years and know the type of person I am."
41 min ago
These are the Uruguay and South Korea squads for today's Group H clash
Uruguay
Manager: Diego Alonso
Goalkeepers: Fernando Muslera, Serge Rochet, Sebastián Sosa
Defenders: Ronald Araújo, Martín Cáceres, Sebastián Coates, José María Giménez, Diego Godín, Mathías Olivera, José Luis Rodríguez, Guillermo Varela, Matías Viña
Midfielders: Rodrigo Bentancur, Giorgian de Arrascaeta, Agustín Canobbio, Nicolás de la Cruz, Facundo Pellistri, Lucas Torreira, Manuel Ugarte, Federico Valverde, Matías Vecino
Forwards: Edinson Cavani, Maxi Gómez, Darwin Núñez, Luis Suárez, Facundo Torres
South Korea
Manager: Paulo Bento
Goalkeepers: Kim Seung-gyu, Jo Hyeon-woo, Song Bum-keun
Defenders: Kim Min-jae, Kim Jin-su, Hong Chul, Kim Moon-hwan, Yoon Jong-gyu, Kim Young-gwon, Kim Tae-hwan, Kwon Kyung-won, Cho Yu-min
Midfielders: Jung Woo-young, Na Sang-ho, Paik Seung-ho, Son Jun-ho, Song Min-kyu, Kwon Chang-hoon, Son Heung-min, Lee Jae-sung (Mainz), Hwang Hee-chan, Hwang In-beom, Jeong Woo-yeong, Lee Kang-in
Forwards: Hwang Ui-jo, Cho Gue-sung
38 min ago
Switzerland defeats Cameroon 1-0 in Group G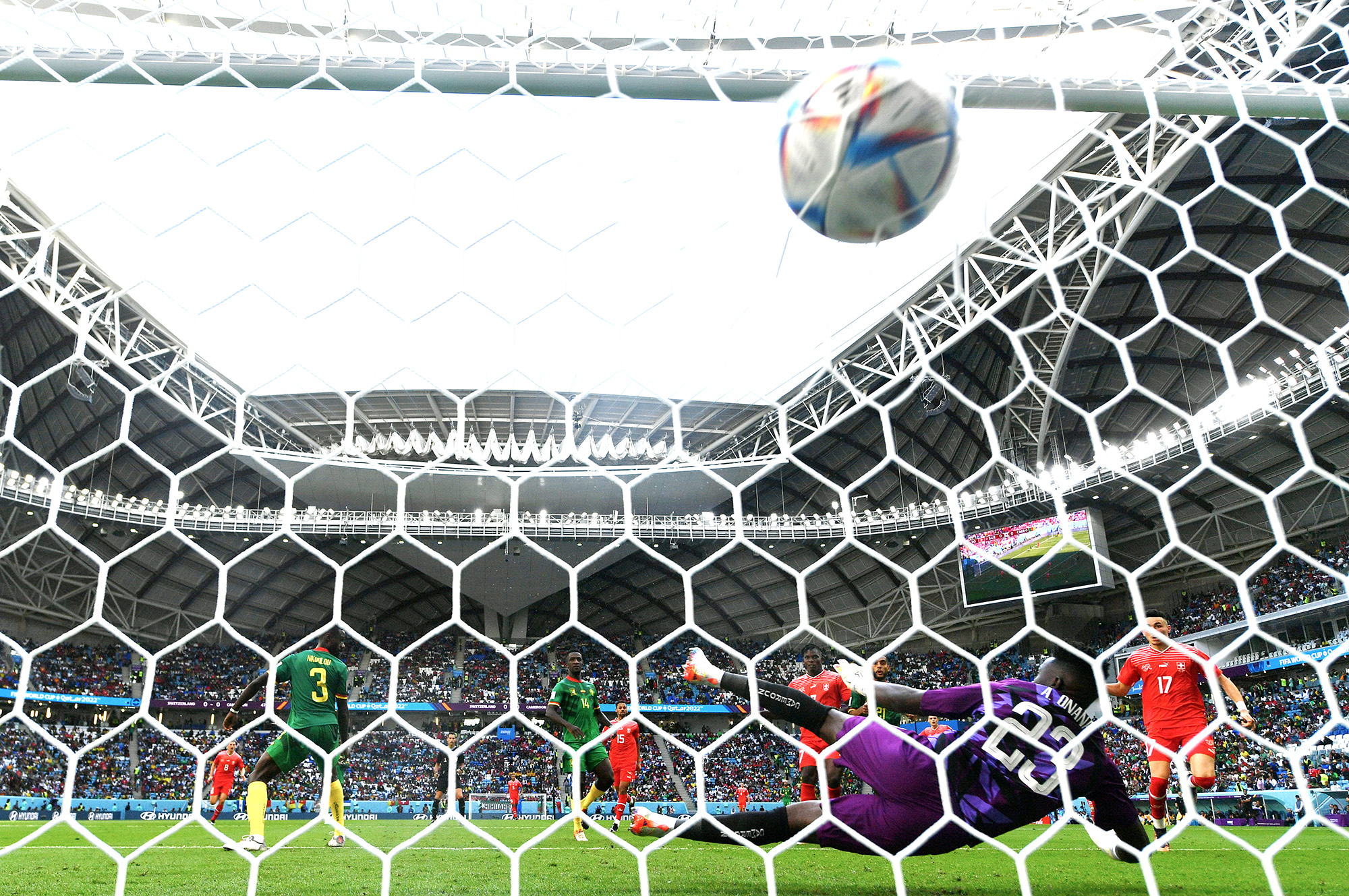 Breel Embolo of Switzerland scores their team's first goal past Andre Onana of Cameroon during the FIFA World Cup Qatar 2022 Group G match between Switzerland and Cameroon at Al Janoub Stadium on November 24, in Al Wakrah, Qatar. (Dan Mullan/Getty Images)
Switzerland squeaked past Cameroon 1-0 in the first match of the day at the Al Janoub Stadium, thanks to a goal from Breel Embolo against the country of his birth.
Cameroon engineered several chances of its own, particularly in the first half, but ultimately could not finish them off.
It was the first ever meeting between the two countries, both of whom have never advanced further than the quarterfinals at a World Cup, and Switzerland began its 2022 campaign with a key win to keep its hopes alive of progressing from a tough group that also includes Serbia and Brazil.
It looks likely to be an uphill battle for Cameroon now, but as we have already seen at this World Cup, you never know…
1 hr 5 min ago
Here's what fans can't do at the World Cup
From CNN's Amy Woodyatt
Budweiser beer kiosks are pictured at the Khalifa International Stadium in Doha on November 18, 2022, ahead of the Qatar 2022 World Cup football tournament. (Miguel Medina/AFP/Getty Images)
After years of anticipation – and controversy – since Qatar was awarded the World Cup, the tournament is finally underway in Doha.
Even before a ball was kicked, some sore spots arose. Despite years of planning, just two days before the tournament kicked off, Qatar announced a ban of alcoholic beer at the eight stadiums hosting the World Cup in a surprise volte-face.
Now, fans traveling to the country might be wondering where they stand with the rest of the host country's local laws and customs.
The sale and consumption of alcohol has been a highly contentious issue since Qatar was first announced as the World Cup host 12 years ago.
The Muslim country is considered to be very conservative and tightly regulates alcohol sales and consumption.
In Qatar, it's illegal to be seen drunk in public and those who violate this could face legal consequences. According to UK government advice on traveling to Qatar, drinking in a public place could "result in a prison sentence of up to six months and/or a fine up to 3,000 Qatar Rial ($824)."
In September, Qatar had said it would permit ticketed fans to buy alcoholic beer at World Cup soccer matches starting three hours before kick-off and for one hour after the final whistle, but not during the match.
Then two days before the first match, soccer's world governing body FIFA confirmed that no alcohol would be sold at the eight stadiums which will host the tournament's 64 matches.
Alcohol will only be served in designated fan parks and other licensed venues around Doha, FIFA said in a statement.
To read about what else is banned, click here