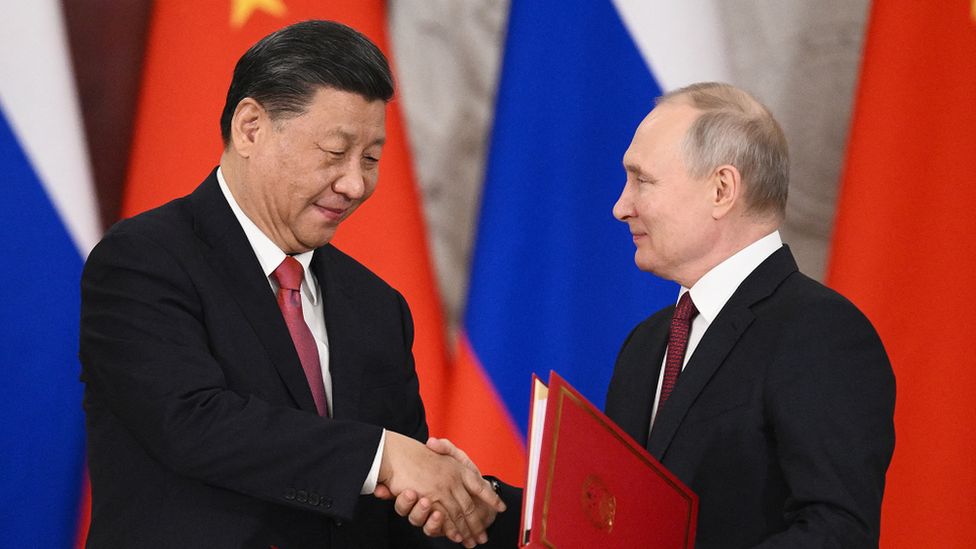 Image source, Reuters
Image caption,
President Putin and President Xi in Moscow on Tuesday
China's peace plan for Ukraine could be used as a basis to end the war, Vladimir Putin has said.
The Russian leader met Chinese President Xi Jinping on Tuesday in Moscow to discuss the conflict, and relations between the two countries.
Mr Putin said the peace initiative could be put forward "when they are ready for it in the West and in Kyiv".
But China's plan - published last month - does not call for Russia to leave Ukraine.
Listing 12 points, it calls for peace talks and respect for national sovereignty.
It also condemns "unilateral sanctions", in what is seen as a veiled criticism of Ukraine's allies in the West.
Ukraine has insisted on Russia withdrawing from its territory as a condition for any talks.
And the US Secretary of State Antony Blinken said calling for a ceasefire before Russia withdrew "would effectively be supporting the ratification of Russian conquest".
In a joint news conference after talks with Mr Xi ended, Mr Putin said: "Many provisions of the Chinese peace plan can be taken as the basis for settling of the conflict in Ukraine, whenever the West and Kyiv are ready for it."
But Russia had yet to see such "readiness" from the other side, he added.
Standing alongside the Russian leader, Mr Xi said his government was in favour of peace and dialogue and that China was on the "right side of history".
He again claimed that China had an "impartial position" on the conflict in Ukraine, seeking to cast Beijing as the potential peace-maker.
The pair also discussed growing trade, energy and political ties between the two nations.
"China is the leading foreign trade partner of Russia," President Putin said, pledging to keep up and surpass the "high level" of trade achieved last year.
There are growing concerns in the West that China might provide military support for Russia.
"We haven't seen any proof that China is delivering lethal weapons to Russia but we have seen some signs that this has been a request from Russia, and that this is an issue that is considered in Beijing by the Chinese authorities," Nato chief Jens Stoltenberg told reporters in Brussels.
A joint statement released by China and Russia after the meeting between the two leaders said the close partnership between the two countries did not constitute a "military-political alliance".
Relations "do not constitute a bloc, do not have a confrontational nature and are not directed against third countries," they added.
On Tuesday morning, Mr Xi was given a fanfare welcome when he arrived at the Kremlin for a second day of talks.
He said he was "very happy" to be in Moscow and described talks with President Putin as "frank, open and friendly".
His visit to Russia came days after the International Criminal Court issued an arrest warrant for President Putin on war crimes allegations.
In the Ukrainian capital, Mr Kishida promised unwavering support to Ukrainian President Volodymyr Zelensky with talk of reconstruction and humanitarian aid.
President Zelensky told a press conference on Tuesday afternoon that he had asked China to get involved in talks but was waiting for an answer.
"We offered China to become a partner in the implementation of the peace formula," he said.
"We invite you to the dialogue; we are waiting for your answer."