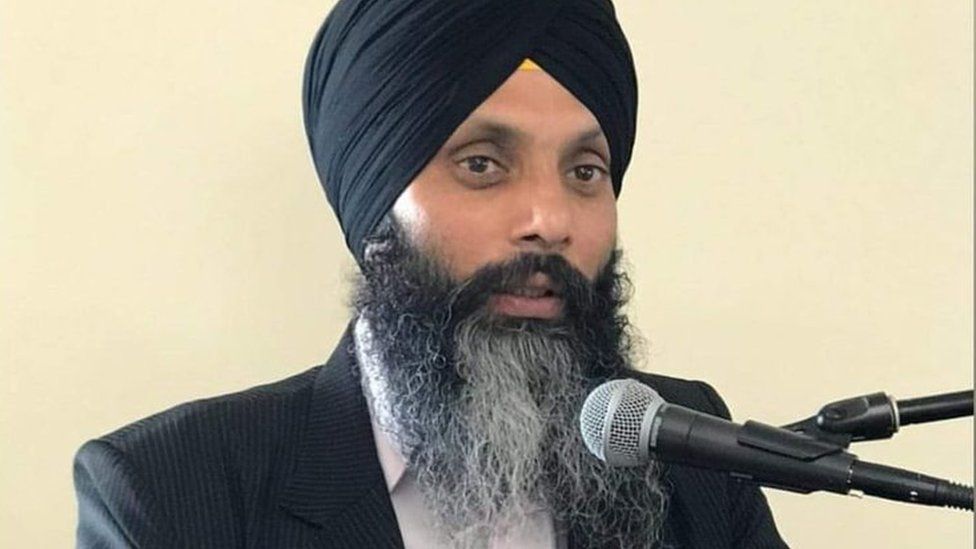 Image source, Sikh PA
Image caption,
Hardeep Singh Nijjar was murdered on 18 June in Surrey, British Columbia, in what police have described as a "targeted" attack
By Nadine Yousif
BBC News, Toronto
Prime Minister Justin Trudeau says the Indian government could be behind the fatal shooting of Canadian Sikh leader Hardeep Singh Nijjar.
Mr Nijjar was shot dead outside of a Sikh temple on 18 June in British Columbia (BC).
Mr Trudeau said Canadian intelligence has identified a credible link between his death and the Indian state.
He raised the issue with Indian Prime Minister Narendra Modi at the recent G20 summit, he said.
"Any involvement of a foreign government in the killing of a Canadian citizen on Canadian soil is an unacceptable violation of our sovereignty," Mr Trudeau said on Monday in the House of Commons.
"It is contrary to the fundamental rules by which free, open and democratic societies conduct themselves," he said.
Mr Nijjar was a prominent Sikh leader in the province of BC and a vocal backer of a separate Khalistani state. Supporters of his have said that he was a target of threats in the past because of his activism.
India has previously said he was a terrorist and led a militant separatist group - accusations his supporters call "unfounded".
Mr Trudeau said Canada has expressed its concerns to high level security and intelligence agencies in India, and said he has been working on this issue with Canada's allies.
"I continue to ask with a great deal of firmness that the government of India cooperate with Canada to shed light on this situation," he said.