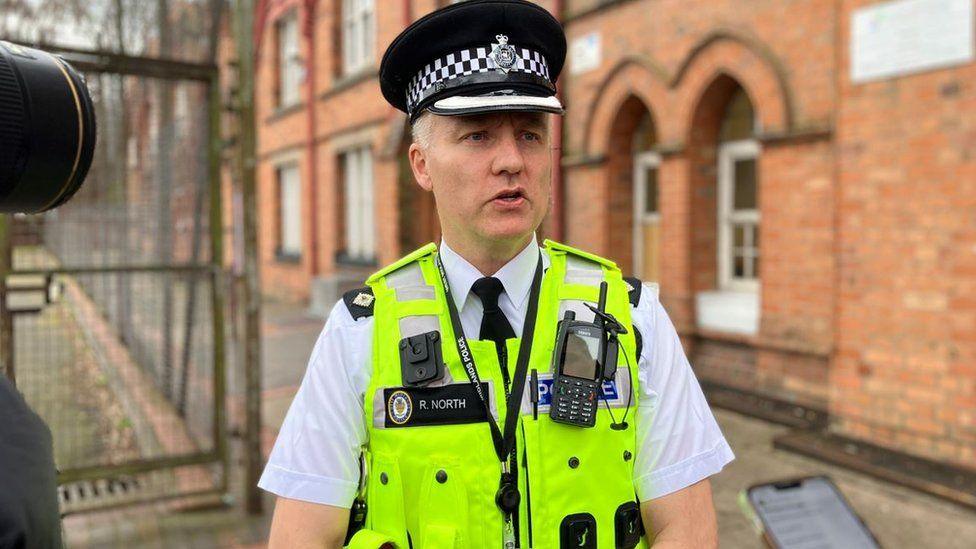 Image caption,
Ch Supt Richard North said they are "using all resources available to us" to investigate the attack
By Rebecca Woods & Phil Mackie
BBC News, in Birmingham
Counter-terror police are involved in an investigation into a man being set alight as he walked home from a mosque.
A man has been held on suspicion of attempted murder after the attack in Edgbaston, Birmingham, on Monday.
The West Midlands and Metropolitan forces are looking into whether there is a link to a similar attack in Ealing, west London last month.
The Birmingham victim, in his 70s, was approached, sprayed with a substance and had his jacket set on fire.
Neighbours told the BBC they helped to put the flames out and carry the victim to his home where he was treated by paramedics.
His son said his father was "very badly burned" and they were praying for his recovery.
He was taken to hospital with burns to his face which are serious but not thought to be life-threatening. Police said he remained in a stable condition.
A video of an attack shared on social media which shows a man being set alight is under investigation by police.
'Working through night'
The suspect was arrested in Dudley Road, the street where the Birmingham mosque is, on Tuesday after being identified by officers carrying out inquiries. The attack happened just after 19:00 GMT in nearby Shenstone Road.
Image caption,
Extra police patrols are taking place in the area to reassure the community
Ch Supt Richard North, commander at Birmingham police, said: "We are aware of the incident that happened in London.
"We are actively working with the Metropolitan Police to see if those two incidents are connected. That's a major part of our inquiry.
"I have had meetings today with colleagues from the Metropolitan Police and they are engaged in the inquiry. We are working very much closely together."
He said officers had been "working through the night to establish what happened and who is responsible".
"We are taking this matter extremely seriously and are using all resources available to us," he said.
"We are keeping an open mind to the motive of the attacker and we won't speculate further at this stage."
Scorch marks
He added: "Our investigation continues with support from Counter Terrorism Policing West Midlands who have access to specialist capabilities to help establish the full circumstances surrounding the incident."
Officers are aware of a video posted on social media "showing a man being set alight, and we're examining it as part of our investigations", the force said.
Image caption,
Scorch marks are on the pavement in Edgbaston where the attack happened
Residents said a lot of doorbell footage in the area had been handed in to police.
Extra officers will be in the area to speak to the community and provide reassurance.
In a joint statement, the city council's leader Ian Ward, cabinet member for community safety John Cotton and ward councillors Sharon Thompson and Marcus Bernasconi called it a "horrific attack".
They also said they would be talking with community groups and local mosques "to offer support to the wider community".
"We would urge the community to work with the police and to avoid any speculation at this stage," they added.
Related Internet Links
The BBC is not responsible for the content of external sites.