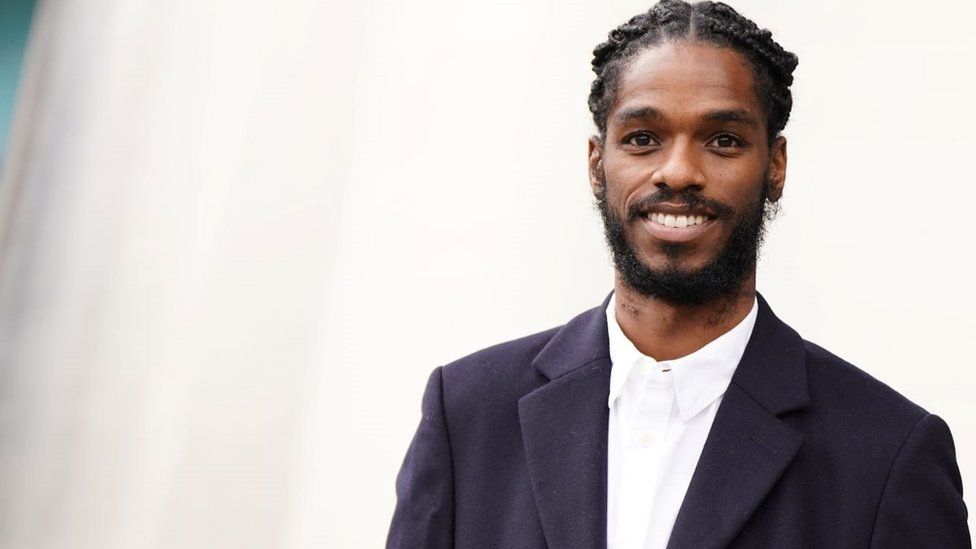 Image source, PA Media
Image caption,
Mr Dos Santos, an international sprinter, was with his partner and their child when police stopped his vehicle
By Adina Campbell
Community affairs correspondent
A black professional athlete has said he was afraid for his family when police pulled him over during a stop and search in west London.
Ricardo Dos Santos and his partner, British sprinter Bianca Williams, were restrained and handcuffed by Met Police officers while their three-month-old was in the back of their Mercedes in Maida Vale in July 2020.
Nothing untoward was found in the car.
The couple believe they were victims of racial profiling.
The incident, a video of which was circulated on social media, led to the Met Police referring itself to police watchdog the Independent Office for Police Conduct (IOPC).
Five officers face dismissal if the IOPC finds them guilty of gross misconduct.
Image source, Jonathan Brady
Image caption,
Bianca Williams believes she was racially profiled
Portuguese sprinter Mr Dos Santos told the disciplinary hearing he had not broken any rules of the road when he was told to pull over.
He said he was not trying to "evade" the police or driving dangerously, and that he was "just trying to get home" because he feared for the safety of his family,
He added: "As a young black person I've been stopped on multiple occasions by police.
"These are very traumatic experiences and my experience is very different to those of others.
"You have no idea how it feels to be accused of things you haven't done as a young black person in London."
Media caption,
Footage of the stop was shared widely on Twitter, after being posted by former Olympic 100m champion Linford Christie
Mr Dos Santos and Ms Williams both claim they were targeted because they are black.
Dashcam footage from the Met Police vehicle that followed Mr Dos Santos' blacked-out car was shown at the disciplinary hearing.
The hearing was also shown body-worn video used by some of the officers.
Mr Dos Santos was heard swearing repeatedly at the officers and mocking them about their jobs and salary.
When asked about his conduct while detained, the 28-year-old said: "My way of dealing with trauma is by laughing. I was shaking when they pulled me over.
"They belittled me when they said I smoked cannabis, when I've never smoked cannabis in my life."
Speaking about the impact of the stop and search, Mr Dos Santos said it had affected his performance on the track.
"The colour of skin is the first thing they saw. You pull over someone for no apparent reason.
"I'm now speaking for a lot of people in London and the rest of the UK. For those who don't have a voice because me, Bianca and my coach all have a platform."
He added: "It's real life. It's here."
Related Internet Links
The BBC is not responsible for the content of external sites.