12 min ago
Morale is plummeting in Putin's private army as Russia's war in Ukraine falters
From CNN's Saskya Vandoorne, Melissa Bell, Joseph Ataman and Renee Bertini
A Wagner recruitment billboard in Russia, part of the group's recent public recruitment. (CNN)
The Ukrainians' bodies lay side-by-side on the grass, the earth beside them splayed open by a crater. Dragged to the spot by Russian mercenaries, the victims' arms pointed to where they had died.
"Let's plant a grenade on them," a voice says in husky Russian, in what appears to be a plan to booby-trap the bodies.
"There is no need for a grenade, we will just bash them in," another says of the Ukrainian soldiers who will come to collect the bodies. The mercenaries then realize they have run out of ammunition.
These events seen and heard on battlefield video, exclusive to CNN, along with access to Wagner recruits fighting in Ukraine, and candid, rare interviews CNN has conducted with a former Wagner commander now seeking asylum in Europe, combine to give an unprecedented look at the state of Russia's premier mercenary force.
While problems of supply and morale, as well as allegations of war crimes have been well documented among regular Russian troops, the existence of similar crises among Wagner mercenaries, often described as President Vladimir Putin's off-the-books shock troops, is a dire omen for Russia's war in Ukraine.
Wagner forces have for several years enjoyed global notoriety. But as Putin's "special military operation" in Ukraine comes apart at the seams, and the announcement of a "partial mobilization" for much-needed conscripts has prompted more than 200,000 Russian citizens to flee to neighboring countries, the cracks in this supposedly elite force are showing.
Limited official information about Wagner and long-standing Kremlin denials about its existence and ties to the Russian state have only added to its infamy and allure, while helping the group to cloud analysis of its exact capabilities and activities.
In reality, though, Wagner – like Russia – is struggling in Ukraine, according to the video testimony of the group's own mercenary fighters.
Read the full report here
12 min ago
Despite Biden's warnings, US has seen no change in Russia's nuclear posture
From CNN's Kaitlan Collins and Jeff Zeleny
A US official said Thursday evening that despite President Biden's warning that the world is the closest it has been to a nuclear crisis since the 1960s, they have still seen no change to Russia's nuclear posture as of now.
Press secretary Karine Jean-Pierre's statement on Tuesday -- that there has been no indication of a change in Russia's posture and therefore no change in the U.S. posture -- still stands, the official said.
According to a source familiar with his thinking, Biden was speaking clearly about the threat officials believe Russia poses at a fundraiser in New York Thursday evening.
While there is no question Russia's nuclear posture is being taken seriously, a senior US government official said the President's language at the fundraiser caught other officials across the government off guard.
The official expressed surprise at the President's remarks, saying there were no obvious signs of an escalating threat from Russia.
12 min ago
Biden delivers stark warning about the dangers of Putin's nuclear threats
From CNN's Sam Fossum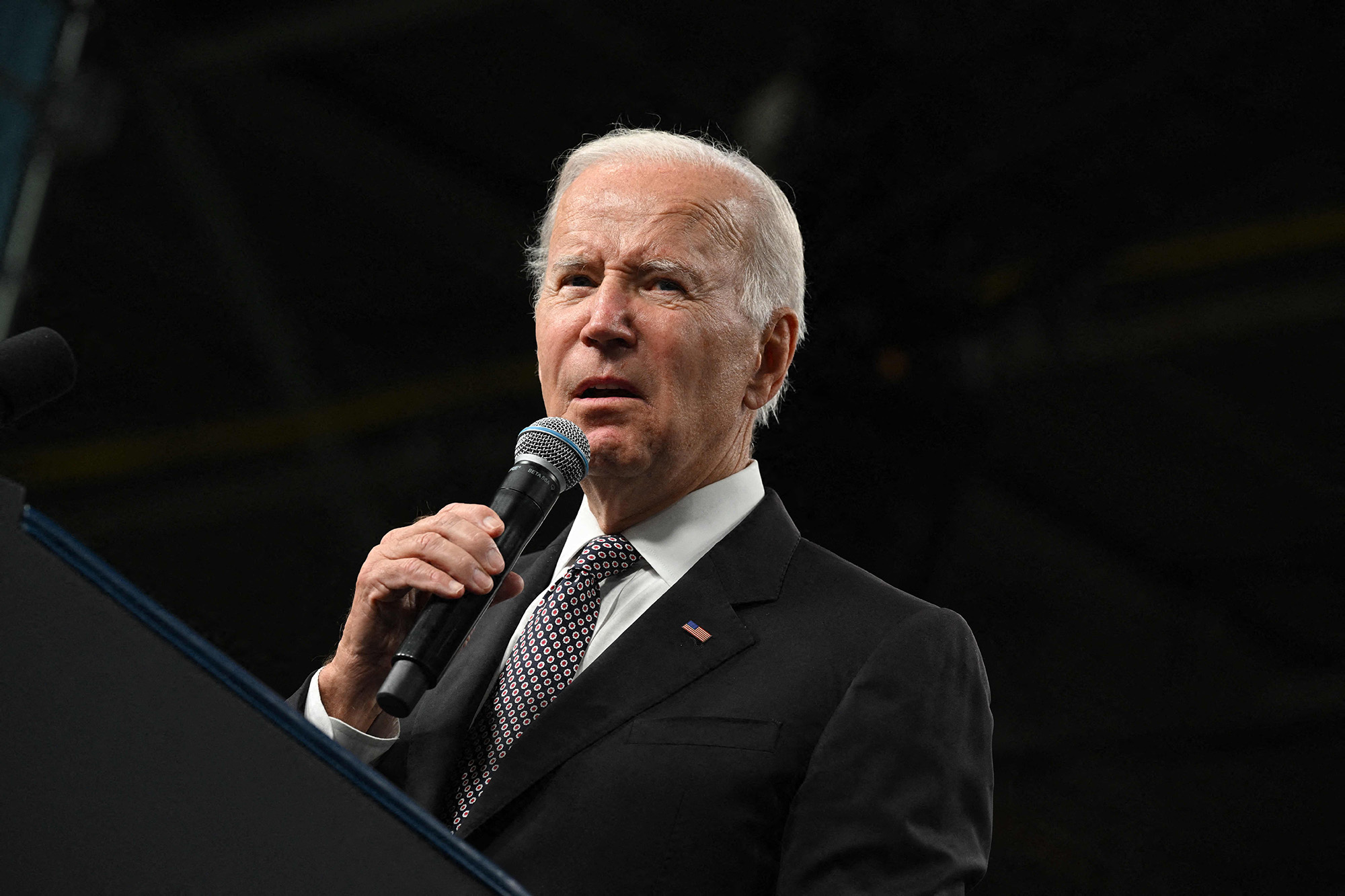 President Joe Biden delivers remarks at the IBM facility in Poughkeepsie, New York, on October 6. (Mandel Ngan/AFP/Getty Images).
During a fundraiser in New York Thursday night, Biden gave a sober and stark warning about the dangers of Russian President Vladimir Putin's threats about using nuclear weapons as his country's military experiences set backs in Ukraine, according to notes from the print pool.
"First time since the Cuban missile crisis, we have a direct threat of the use nuclear weapon if in fact things continue down the path they are going," Biden warned during the fundraiser, according to the pool.
He added: "I'm trying to figure out what is Putin's off ramp?… Where does he find a way out? Where does he find himself in a position that he does not not only lose face but lose significant power within Russia?"
"We've got a guy I know fairly well," Biden said of Putin, according to the pool. "He's not joking when he talks about potential use of tactical nuclear weapons or biological or chemical weapons because his military is you might say significantly underperforming."
"I don't think there's any such thing as the ability to easily (use) a tactical nuclear weapon and not end up with Armageddon," Biden added, according to the pool.
13 min ago
At least 7 people killed in Russian missile strikes on Zaporizhzhia, Ukrainian official says
From CNN's Yulia Kesaieva and Mohammed Tawfeeq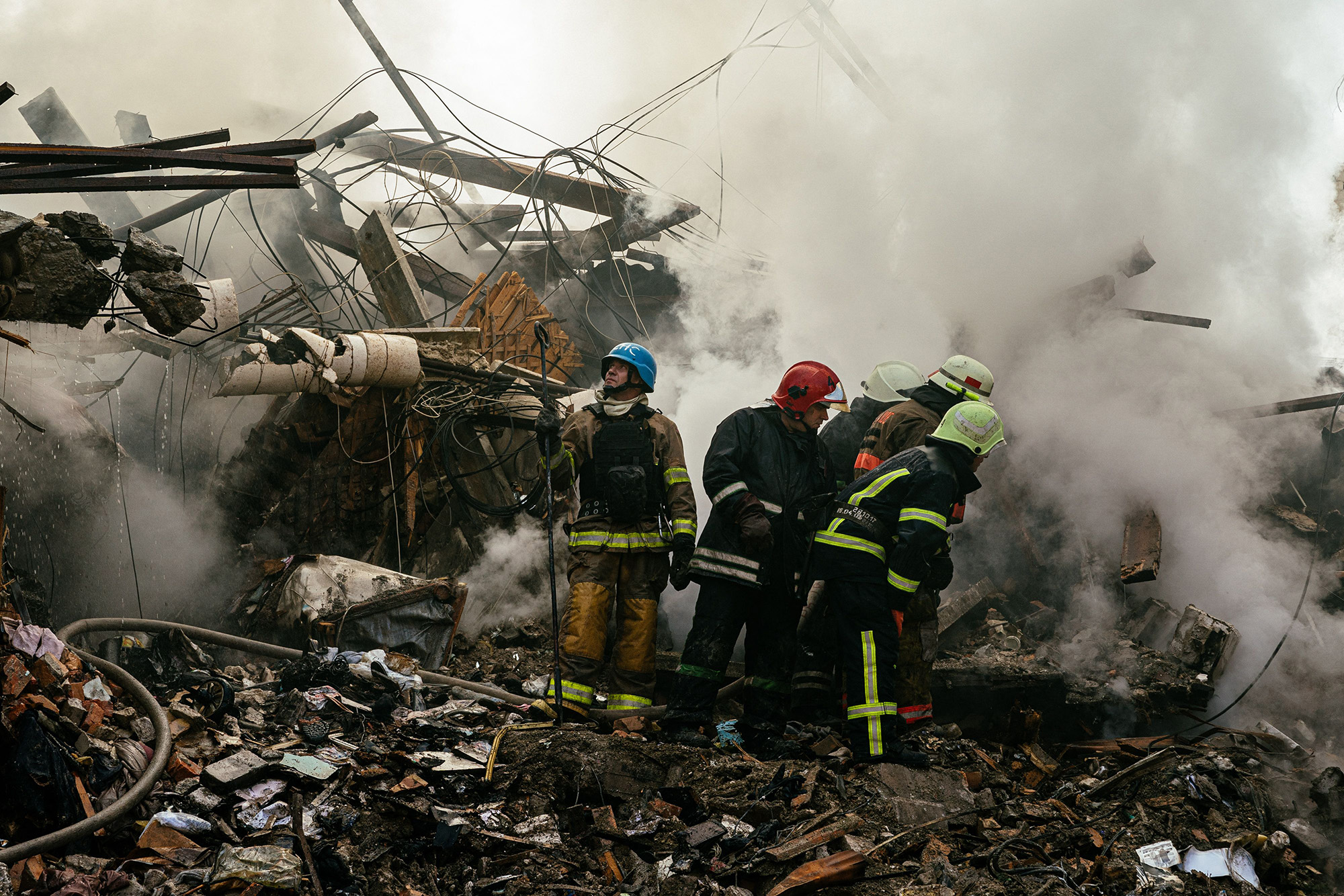 Ukrainian firefighters stand on rubble after a strike in Zaporizhzhia on October 6. (Dimitar Dilkoff/AFP/Getty Images)
At least seven people were killed when several missiles hit the city of Zaporizhzhia in southern Ukraine on Thursday, according to a Ukrainian official.
Oleksandr Starukh, the head of the Zaporizhzhia regional military administration, shared the update in a post on Telegram.
Starukh warned the death toll could increase, as five people are still missing. He also said at least 21 people have been rescued and that crews are still working to find others.
Ukrainian officials accused Russia of intentionally targeting civilians.
"There are neither military nor important objects near the hit site, only civilian buildings, and apartment buildings," Starukh said.
Foreign Minister Dmytro Kuleba said at least seven Russian missiles "hit people sleeping peacefully at their homes."
"More have struck during the day. Russians keep deliberately striking civilians to sow fear. Russian terror must be stopped — by force of weapons, sanctions, and full isolation," Kuleba continued.
Some context: Zaporizhzhia is a major city in southern Ukraine, not far from the frontline, and the site of a nuclear power plant that the international community is watching warily.
Part of the wider region is occupied by Russian forces.
Russian President Vladimir Putin signed measures this week to annex four Ukrainian regions, including Zaporizhzhia, in violation of international law.
13 min ago
Europe's largest nuclear plant, run by Ukrainian technicians, sits in Zaporizhzhia, newly annexed by Russia. Here's what you need to know
From CNN's Uliana Pavlova, Olga Voitovych and Joshua Berlinger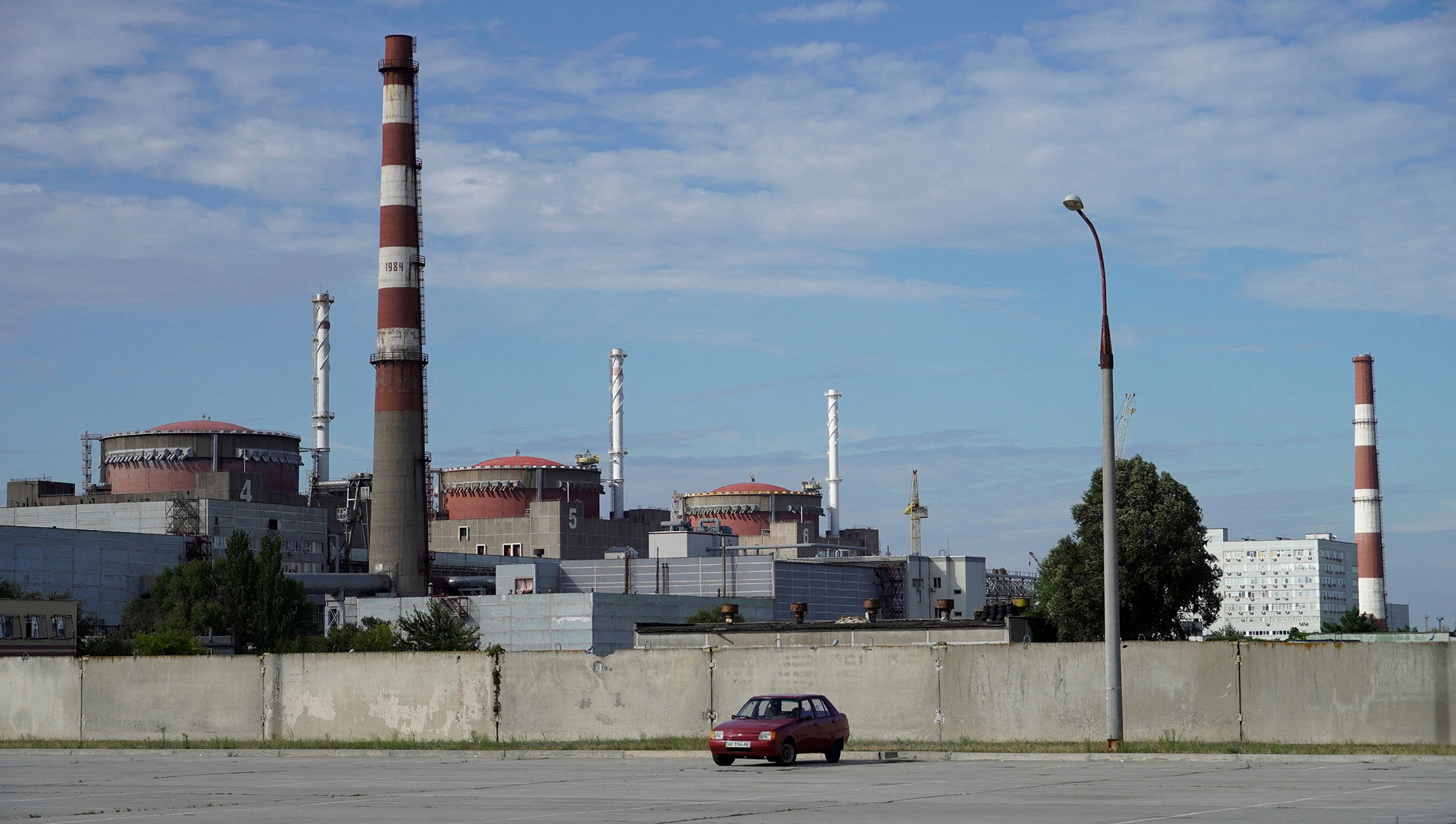 A general view of the Zaporizhzhia Nuclear Power Plant on September 11. (AFP/Getty Images)
Russian President Vladimir Putin on Wednesday signed a decree that puts the Zaporizhzhia nuclear power plant in Ukraine under involuntary Russian state control — and amends the country's constitution by admitting new regions into the Russian Federation.
The annexation of Zaporizhzhia and three other regions is illegal under international law and has been widely condemned by the international community.
Despite international opposition to the move, Putin also instructed the cabinet to determine how to regulate and operate the Zaporizhzhia plant — which has been under forcible Russian military control since March — through 2028.
Just as Putin was signing the decree, the Ukrainian state nuclear operator, Energoatom, said its president would assume the duties of the plant's director general.
Petro Kotin, Energoatom president, said in a video address to the employees of the plant: "In accordance with the current legislation, approval and regulatory documents, I have decided to take up the duties of the director general of the Zaporizhzhia Nuclear Power Plant."
He said the administration of the plant would be transferred directly to Kyiv following the detention by Russian officials of the plant's general director, Ihor Murashov. On Tuesday, the IAEA said that Murashov will not continue his duties at the nuclear power plant following his release from Russian detention.
Kotin also noted that operational issues at the plant would be resolved by the technical staff by agreement with the central office of the company.
IAEA Intervention: The head of the UN's nuclear watchdog, Rafael Grossi, was in Kyiv on Thursday to discuss his calls to establish a nuclear safety zone around the plant "as soon as possible," the IAEA said in a statement. Grossi will also visit Russia in the coming days.
Grossi said at a news conference that it's still unclear what the "practical consequences" were of Russia's decision to seize the plant, but he would be discussing those matters in high-level meetings in Moscow. He also said that the IAEA considers the facility Ukrainian.
"We want this war to stop. The war should stop immediately. The position of the IAEA is that this facility is a Ukrainian facility, but I don't get into comments about military developments," Grossi said.
"For us, it is obvious that since this is a Ukrainian facility, the ownership (sic) is on Energatom," Grossi said, referring to the Ukrainian state nuclear agency. "We are an international agency, and we are guided by international law. And as you all know very well, annexations are not accepted under international law."
Some context: The Zaporizhzhia plant has been subject to intense scrutiny since its occupation shortly after Russia's invasion in late February. Intense Russian shelling near the facility this summer sparked concerns of a nuclear accident, prompting the International Atomic Energy Agency to send a team there.
The nuclear plant, with six reactors, is the largest in Europe. It continues to be run by Ukrainian technicians, but the forcible annexation of Zaporizhzhia means that according to Russian law it is now on Russian territory.